A key component of the investment process employed by our team is our proprietary and dynamic ESG scoring system, which is applied to all companies under coverage. This added layer of input and discussion improves our analysts' financial modelling and influences their stock recommendation, both of which determine the portfolio's weight.
A key characteristic of our ESG scoring system is that each component (Environment, Social and Governance) is equal-weighted when determining a company's final score. Gender diversity and board independence are two of the quantitative inputs used in the Governance formula, as below.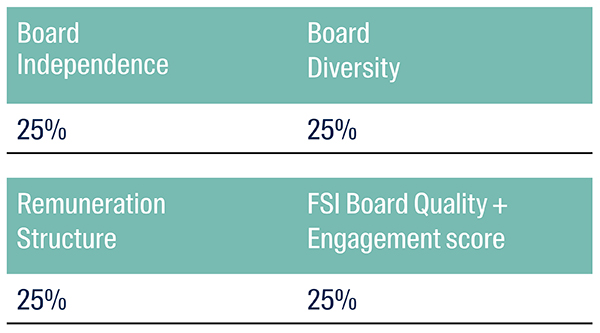 To achieve the maximum score for board diversity, female representation on a company's board must be between 40-70%. An upper limit is included to ensure boards hold equal representation of both genders.
Out of all the companies covered in our proprietary ESG scoring system, just under 22% have already achieved the 40% board diversity objective, with an increasing number making commitments to achieve this as soon as possible.
Comparing our flagship fund, the Wholesale Australian Share Fund, against the investment universe reinforces our stance on gender equality and highlights the progress made to date. Results from our scoring system show that the portfolio has a higher skew to companies with diverse management teams, as we believe it leads to improved decision-making and better outcomes for shareholders.
Percentage of companies with at least 40% gender representation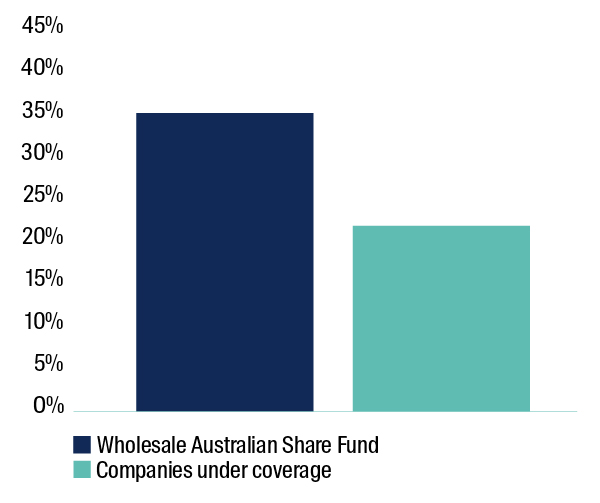 Source: First Sentier Investors
However, advocating for gender diversity isn't as simple as only investing in companies with acceptable  board structures. Our policy on ESG is "engagement ahead of exclusion", meaning we don't ignore companies and opportunities simply because they don't have the perfect board structure. We are open-minded about investing in "low scoring" companies, assuming our fundamental analysis indicates that an attractive investment opportunity exists and the company has a willingness to actively engage. Positive change will only occur through engagement.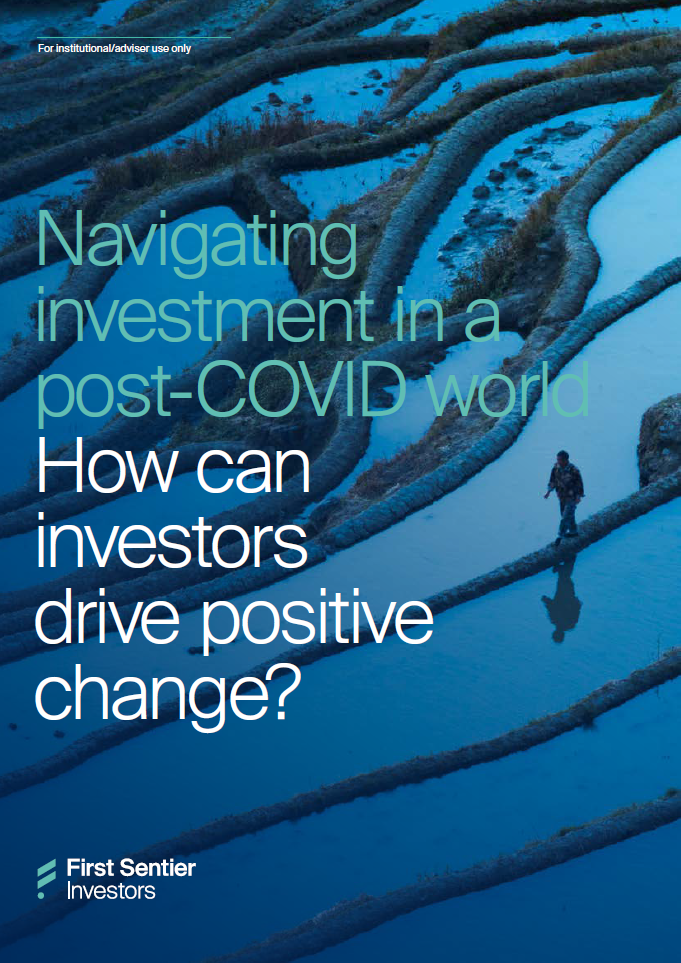 Discover more chapters from our 'Navigating investment in a post-COVID world' report

Subscribe to our future research papers, case studies and 'Investing beyond the next decade' podcast series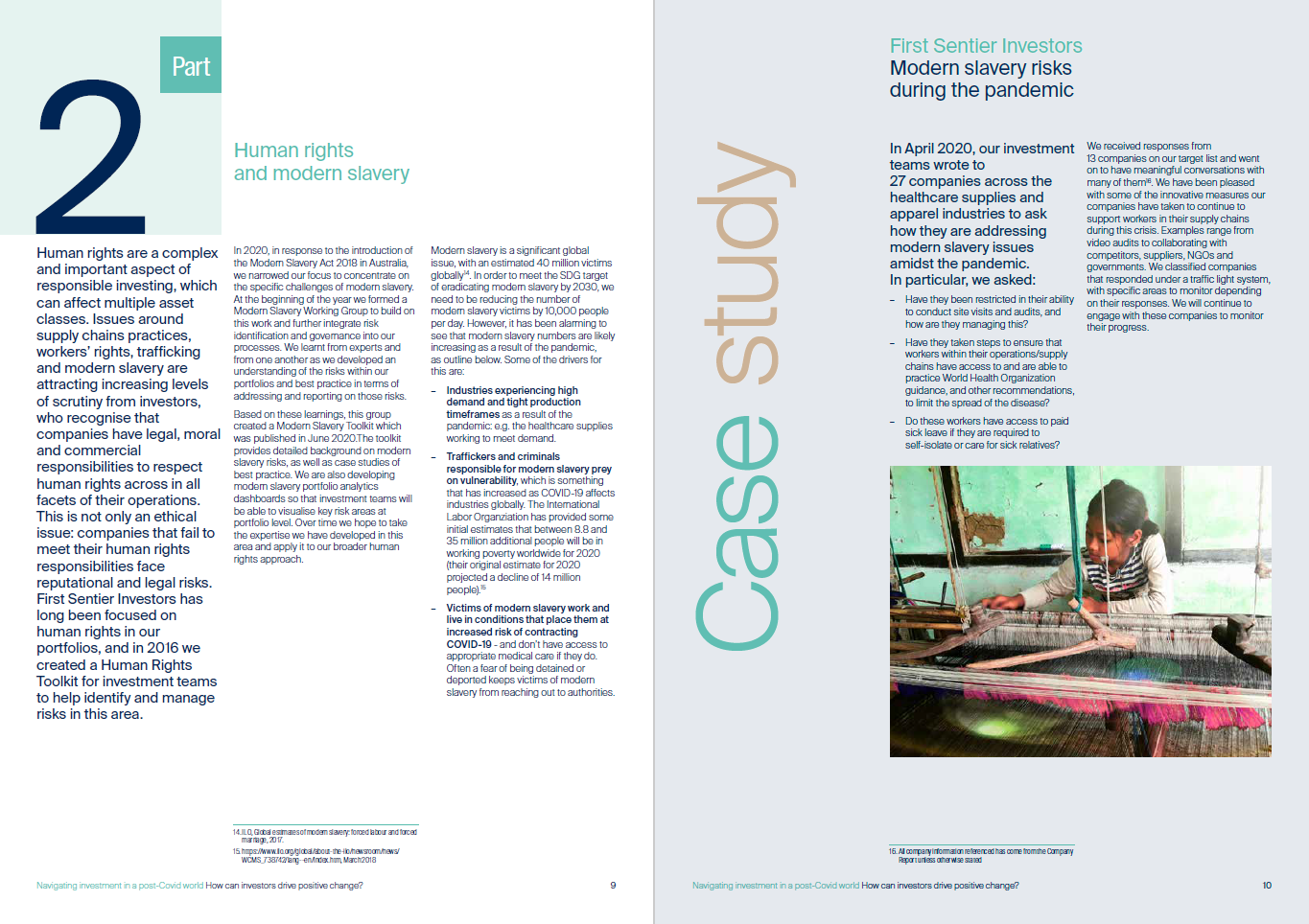 Important Information
This material has been prepared and issued by First Sentier Investors (Australia) IM Ltd (ABN 89 114 194 311, AFSL 289017) (Author). The Author forms part of First Sentier Investors, a global asset management business. First Sentier Investors is ultimately owned by Mitsubishi UFJ Financial Group, Inc (MUFG), a global financial group. A copy of the Financial Services Guide for the Author is available from First Sentier Investors on its website.
This material contains general information only. It is not intended to provide you with financial product advice and does not take into account your objectives, financial situation or needs. Before making an investment decision you should consider, with a financial advisor, whether this information is appropriate in light of your investment needs, objectives and financial situation. Any opinions expressed in this material are the opinions of the Author only and are subject to change without notice. Such opinions are not a recommendation to hold, purchase or sell a particular financial product and may not include all of the information needed to make an investment decision in relation to such a financial product.
To the extent permitted by law, no liability is accepted by MUFG, the Author nor their affiliates for any loss or damage as a result of any reliance on this material. This material contains, or is based upon, information that the Author believes to be accurate and reliable, however neither the Author, MUFG, nor their respective affiliates offer any warranty that it contains no factual errors. No part of this material may be reproduced or transmitted in any form or by any means without the prior written consent of the Author.