Prices & performance
Show fund factsheets & data
Strategy Overview
Key Facts
Entry Price:
Exit Price:
Price Date:
*
* This is an annualised interest rate from the past seven days. For actual performance for our Cash Funds, please view the performance page.
is recognised as a Responsible Investment Leader 2021 by the Responsible Investment Association Australasia (RIAA). This acknowledges our commitment to responsible investing; our explicit consideration of environmental, social and governance factors in investment decision making, our strong and collaborative stewardship; and our transparency in reporting activity, including the societal and environmental outcomes being achieved.

Strategy Overview
Price: /
We invest for purpose
Markets are constantly moving – and when conditions change investors must rethink their asset allocation.
Our flexible and dynamic approach draws on a global opportunity set to meet the multiple, often competing objectives of our clients. The goal is to tie all investment decisions to the ultimate objective of the portfolio.
Time has shown that asset allocation decisions are the dominant driver of overall portfolio returns and multi-asset investing provides risk and return benefits that are not typically achievable by investing in a single asset class. 
Our multi-asset offering for institutional investors
Our diverse clients around the world have a wide variety of investment goals and challenges to solve.
Built off a consistent investment approach and research engine, we offer bespoke investment solutions across the continuum of styles demanded by our clients, from more traditional asset allocation through the investment spectrum to benchmark-unconstrained, absolute-return strategies.
Objective-based portfolio management
Objective-based investing seeks to overcome the limitations inherent in a traditional balanced (e.g. 60/40 growth vs. defensive assets) approach. A particular outcome is targeted through a bespoke investment strategy, designed to reflect a client's interests in terms of ambition and risk, and adopts an absolute-return mindset.
We make investment decisions with the ultimate goal of consistently delivering a particular objective or multiple objectives, while minimising the chance of failure to meet objectives. 
Implemented solutions
Implemented solutions are investment products designed and overseen by the Multi-Asset Solutions team. These are implemented in-house in collaboration with our global capability set offered globally across asset classes.

Examples include the following:
Traditional 'balanced' funds managed to a strategic asset allocation

Thematic portfolios

Inflation protection and risk reduction strategies

Lifestyle/lifecycle modelling with 'targeted benefit' approach

Diversified portfolios of alternativesObjective-based portfolio management
Advisory services
Advisory services are activities performed that involve providing advice and sharing the intellectual property of the team.
Examples include the following:
Providing asset allocation and risk management advice

Ensuring sufficient funding of pension or insurance liabilities

Meeting spending objectives or income needs

Incorporating tailored notions of risk and ways to de-risk

Providing market intelligence and implementation guidance

Testing investment ideas using our proprietary tools

Sharing research papers and topical market updates
Our asset allocation moves with markets
The foundation of our portfolios, our neutral asset allocation, takes a long term view on economies, markets and expected returns across asset classes. While neutral asset allocation alone will be the dominant driver of returns, there is also opportunity to mitigate portfolio risks and generate additional returns as market conditions change. We supplement our long term neutral asset allocation with dynamic asset allocation, which exploits shorter-term market inefficiencies. 
How our portfolio works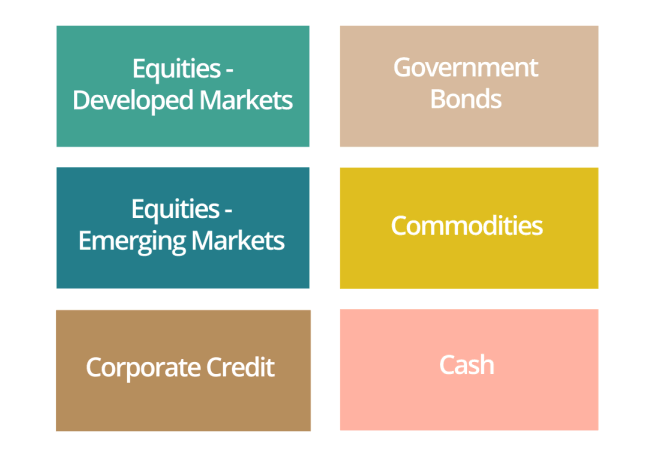 Neutral asset allocation
The 'neutral' asset allocation is the mix of investments that we believe has the highest likelihood of achieving a given portfolio's long-term objectives based on fundamentals. The first step in our investment process is determining the economic outlook, both globally and for individual countries.
Using current valuations as a starting point, key economic variables including GDP growth, inflation, risk free rates, and long-term bond yields enable us to calculate expected returns for various asset classes. 
Whitepapers and other resources
Our corporate RI strategy is based upon three strategic pillars of quality, stewardship and engagement.
As global multi-asset investors, we partner with our clients to provide solutions that maximise the probability that they will achieve their investment objectives. We assess our client needs based on three key criteria: risk tolerance, investment horizon and return ambition level. We utilise third party monitoring services for our direct holdings.
Learn more about the Multi-Asset Solutions team's approach to Responsible Investment
Meet the Multi-Asset Solutions team
Epco van der Lende
Co-Head of Multi-Asset Solutions
Kej Somaia
Co-Head of Multi-Asset Solutions
Jan Baars
Senior Portfolio Manager
Andrew Harman
Senior Portfolio Manager