Board of Directors
We operate as a standalone global investment management business, governed by a Board initially comprising representatives from CFSGAM/FSI and Mitsubishi UFJ Trust and Banking Corporation. It is expected that the Board will be expanded to include independent non-executive directors in the coming year.
Sunao Yokokawa
Director, Deputy President and Executive Officer, Mitsubishi UFJ Trust and Banking Corp (Chairman)
Mr Yokokawa is responsible for leading and overseeing Asset Management and Investor Services Businesses in both MUFG and Mitsubishi UFJ Trust and Banking. He has vast experience in asset management.
He joined Mitsubishi UFJ Trust and Banking in 1986 in portfolio management and strategic planning, including corporate planning at the firm's subsidiary, Mitsubishi UFJ Kokusai Asset Management. Mr Yokokawa has a MBA from the Stern School of Business, New York University and a bachelor degree in Economics from Hitotsubashi University, Tokyo, Japan.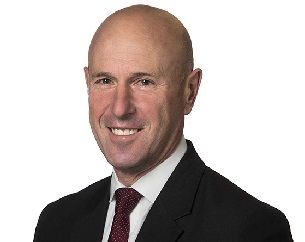 Mark Steinberg
First Sentier Investors | First State investments CEO
Mr Steinberg is the Chief Executive Officer for First Sentier Investors and First State Investments (FSI) and is based in Sydney.
Mr Steinberg brings a strong background in acquisitions and wealth management to his role of CEO. Before joining the company in September 2017, Mr Steinberg was Group Chief Financial Officer and Group Chief Operating Officer of Cover-More, an Australian Stock Exchange listed company, where he oversaw several acquisitions before Cover-More was acquired in April 2017.
Prior to this, he held positions at Colonial First State, including Chief Financial Officer. He also worked for Vodafone, where he was CFO of the New Zealand business, Finance Director of the Japanese business and CFO of the Australian business.
Mr Steinberg is a Fellow of the Institute of Chartered Accountants in Australia and New Zealand and a Senior Fellow of FINSIA.
Yutaka Kawakami
First Sentier Investors | First State investments Deputy CEO
Mr Kawakami supports the development and implementation of the business strategy, align interests and seek opportunities and synergies between Mitsubishi UFJ Trust and Banking and our company, in addition to assisting with the governance framework to be integrated into Mitsubishi UFJ Trust and Banking.
Since he joined Mitsubishi UFJ Trust and Banking in 1990, he has gained more than 25 years' experience in the field of asset management. He has held various positions including strategist, global asset management sales, strategic planning, mergers and acquisitions, directorships with strategic alliance partners, such as joint venture with Baillie Gifford and Shenwan Hongyuan Securities.
He was also an equity portfolio manager and analyst in London for eight years.
Mr Kawakami has a degree in Economics from Keio University, Tokyo, Japan.
Suzanne Evans
Chief Financial Officer
Ms Evans is responsible for the Finance and Strategy function in her role as Chief Financial Officer, which includes accounting, tax, treasury and corporate strategy. She has more than 25 years of experience across all aspects of capital markets including banking, life insurance, financial services and property.
Prior to joining the company, Ms Evans held roles in investor relations, treasury, strategy and mergers and acquisitions for a number of publicly-listed entities. She holds a Masters in Applied Finance from Macquarie University and is a Non-Executive Director of Domestic Violence NSW Service Management, a not-for-profit providing services to women and children escaping family violence.
Suzanne is a member of the Enterprise Leadership Team.
Takemasa Niki
Mitsubishi UFJ Trust and Banking Executive Officer and General Manager of Corporate Planning Division
Mr Niki joined Mitsubishi UFJ Trust and Banking in 1989 and built his experience in its overseas operations including custodial/asset administration business and internal controls such as risk management and compliance in New York.
Prior to his current position, he served as General Manager of Audit Division, overseeing global audit function in Mitsubishi UFJ Trust and Banking. Mr Niki has a degree in Economics from Keio University, Tokyo, Japan.