Human rights are a complex and important aspect of responsible investing, which can affect multiple asset classes. Issues around supply chain practices, workers' rights, trafficking and modern slavery are attracting increasing levels of scrutiny from investors, who recognise that companies have legal, moral and commercial responsibilities to respect human rights across all facets of their operations.
This is not only an ethical issue: companies that fail to meet their human rights responsibilities face reputational and legal risks. First Sentier Investors has long been focused on human rights in our portfolios, and in 2016 we created a Human Rights Toolkit for investment teams to help identify and manage risks in this area.
In 2020, in response to the introduction of the Modern Slavery Act 2018 in Australia, we narrowed our focus to concentrate on the specific challenges of modern slavery. At the beginning of the year we formed a Modern Slavery Working Group to build on this work and further integrate risk identification and governance into our processes. We learnt from experts and from one another as we developed an understanding of the risks within our portfolios and best practice in terms of addressing and reporting on those risks.
Based on these learnings, this group created a Modern Slavery Toolkit which was published in June 2020. The toolkit provides detailed background on modern slavery risks, as well as case studies of best practice. We are also developing modern slavery portfolio analytics dashboards so that investment teams will be able to visualise key risk areas at portfolio level. Over time we hope to take the expertise we have developed in this area and apply it to our broader human rights approach.
Modern slavery is a significant global issue, with an estimated 40 million victims globally1. In order to meet the SDG target of eradicating modern slavery by 2030, we need to be reducing the number of modern slavery victims by 10,000 people per day. However, it has been alarming to see that modern slavery numbers are likely increasing as a result of the pandemic, as outlined below. Some of the drivers for this are:
Industries experiencing high demand and tight production timeframes as a result of the pandemic: e.g. the healthcare supplies working to meet demand.
Traffickers and criminals responsible for modern slavery prey on vulnerability, which is something that has increased as COVID-19 affects industries globally. The International Labor Organisation has provided some initial estimates. Between 8.8 and 35 million additional people will be in working poverty worldwide for 2020 (their original estimate for 2020 projected a decline of 14 million people).2
Victims of modern slavery work and live in conditions that place them at increased risk of contracting COVID-19 - and don't have access to appropriate medical care if they do. Often a fear of being detained or deported keeps victims of modern slavery from reaching out to authorities.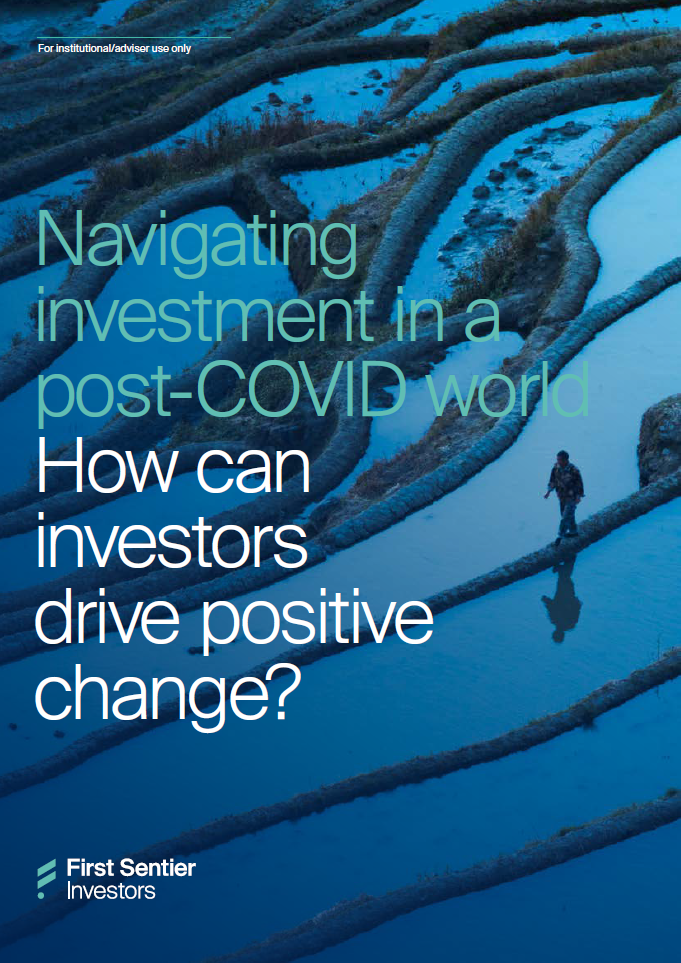 Discover more chapters from our 'Navigating investment in a post-COVID world' report

Subscribe to our future research papers, case studies and 'Investing beyond the next decade' podcast series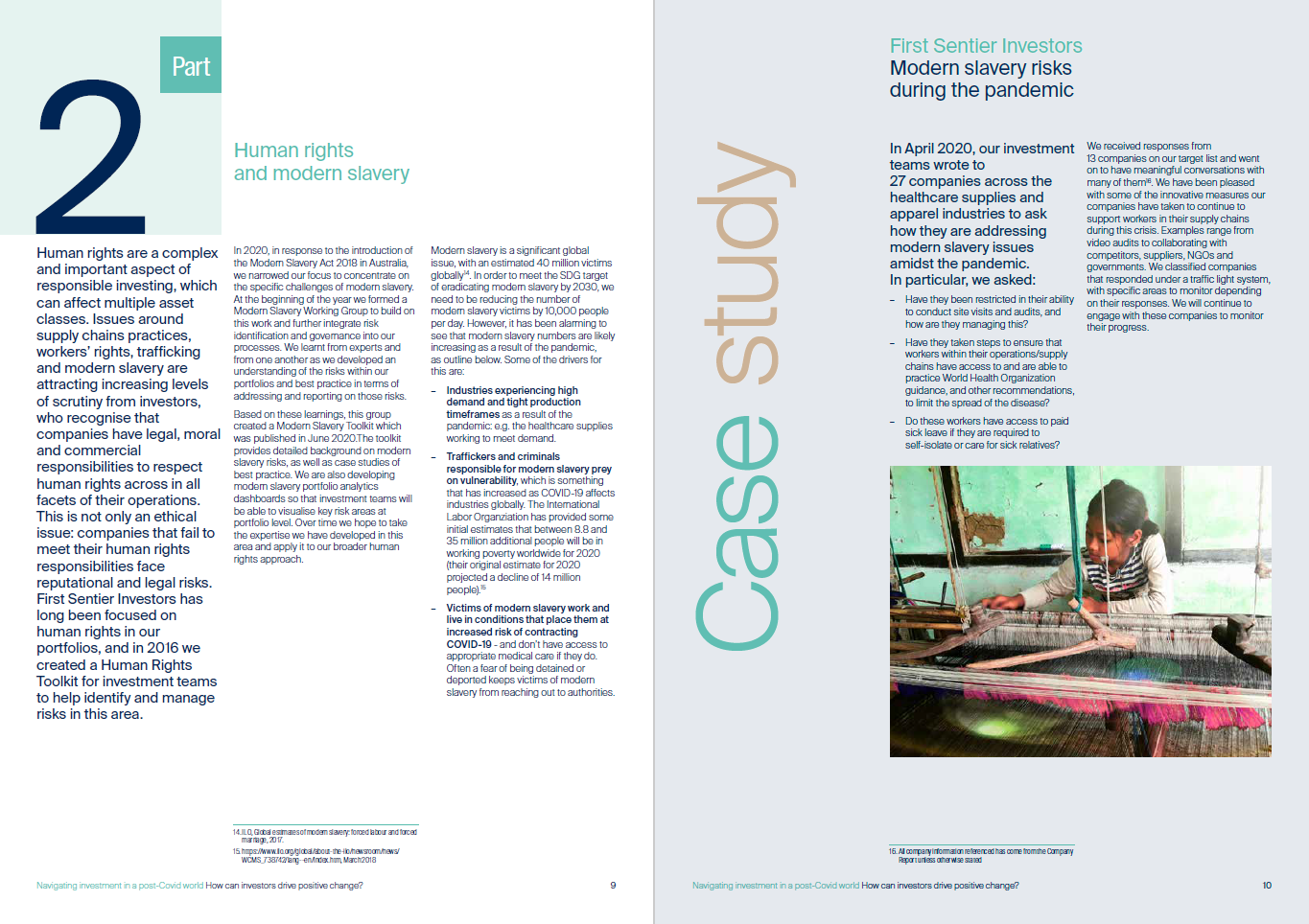 1. ILO, Global estimates of modern slavery: forced labour and forced marriage, 2017.
2. https://www.ilo.org/global/about-the-ilo/newsroom/news/WCMS_738742/lang--en/index.htm, March 2018
Important Information
This material has been prepared and issued by First Sentier Investors (Australia) IM Ltd (ABN 89 114 194 311, AFSL 289017) (Author). The Author forms part of First Sentier Investors, a global asset management business. First Sentier Investors is ultimately owned by Mitsubishi UFJ Financial Group, Inc (MUFG), a global financial group. A copy of the Financial Services Guide for the Author is available from First Sentier Investors on its website.
This material contains general information only. It is not intended to provide you with financial product advice and does not take into account your objectives, financial situation or needs. Before making an investment decision you should consider, with a financial advisor, whether this information is appropriate in light of your investment needs, objectives and financial situation. Any opinions expressed in this material are the opinions of the Author only and are subject to change without notice. Such opinions are not a recommendation to hold, purchase or sell a particular financial product and may not include all of the information needed to make an investment decision in relation to such a financial product.
To the extent permitted by law, no liability is accepted by MUFG, the Author nor their affiliates for any loss or damage as a result of any reliance on this material. This material contains, or is based upon, information that the Author believes to be accurate and reliable, however neither the Author, MUFG, nor their respective affiliates offer any warranty that it contains no factual errors. No part of this material may be reproduced or transmitted in any form or by any means without the prior written consent of the Author.