Biodiversity is an important issue that cannot be considered in isolation from climate change. The impacts of climate change such as temperature rises, increases in extreme weather events and increase of carbon dioxide in the atmosphere is already having substantial impacts on biodiversity. At the same time, biodiversity conservation is critical to addressing climate change, meaning that these issues are mutually dependent.
Projections indicate that unless emissions are rapidly reduced, up to 50% of species1 are forecast to lose most of their suitable climate conditions by 2100 under the highest greenhouse gas emissions scenario2. With the COVID-19 virus "spilling" from animals to humans, the pandemic has underlined the connection between people, companies, wildlife and biodiversity.
As humans diminish biodiversity by cutting down forests and building more infrastructure, we increase the risk of disease pandemics such as COVID-19. Many ecologists have long suspected this, but as academic studies including from University College London3 are revealing, while some species are going extinct, those that tend to survive and thrive — rats and bats, for instance — are more likely to host potentially dangerous pathogens that can make the jump to humans.
Analysis of around 6,800 ecological communities on six continents adds to a growing body of evidence that connects trends in human development and biodiversity loss to disease outbreaks.4 
This phenomenon is likely to be the direct result of increased contact between humans, wildlife and livestock, as people move into undeveloped areas. These interactions happen more frequently on the frontier of human expansion because of changes to the natural landscape and increased encounters with animals. Whilst biodiversity conservation may not be considered critical to a company's SLO right now, we anticipate that it will increasingly be on the agenda, as we emerge from and reflect on the pandemic. 
As responsible investors with a long-term focus, it is important for us to understand the impact of biodiversity loss on the companies that we invest in and their contributions to the problem. At First Sentier Investors we consider that we have an important role to play in the implementation of SDG Target 12.6 to encourage companies to adopt sustainable practices and to integrate sustainability information into their reporting cycle. Additionally, through our current work on biodiversity we also hope to contribute to SDG Target 14.1 to prevent and significantly reduce marine pollution of all kinds.
One practical way we are addressing this issue is through an investor collaboration on microplastics. In collaboration with the UK's Marine Conservation Society, we are leading a programme to engage with the manufacturers of domestic and commercial washing machines to fit filters to their products, as a standard feature, that prevent plastic microfibres entering the world's marine ecosystems. This technology is available today, but only used by a handful of companies.
Globally more than 840 million domestic washing machines are in use, with one kilogram of washing able to release up to 1.5 million fibres5. Across the UK, for example, 9.4 trillion fibres could be released in one week alone6. With the advent of technological solutions to fit filters in washing machines, there are now solutions to prevent this serious pollution risk. However, adoption is slow, and we have identified a need to apply group pressure to manufacturers in order to encourage adoption.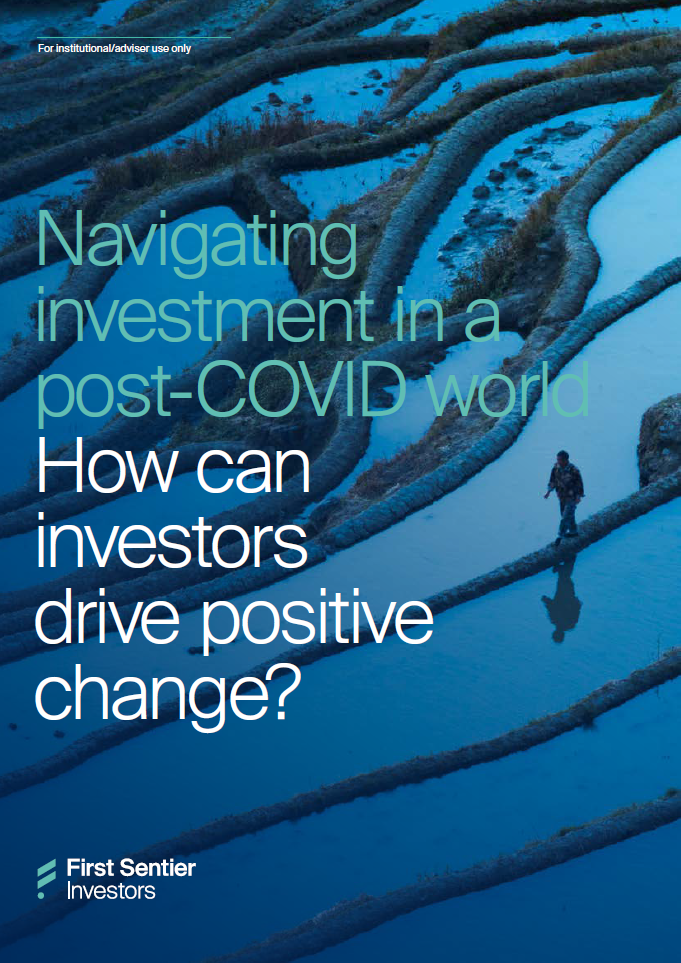 Discover more chapters from our 'Navigating investment in a post-COVID world' report

Subscribe to our future research papers, case studies and 'Investing beyond the next decade' podcast series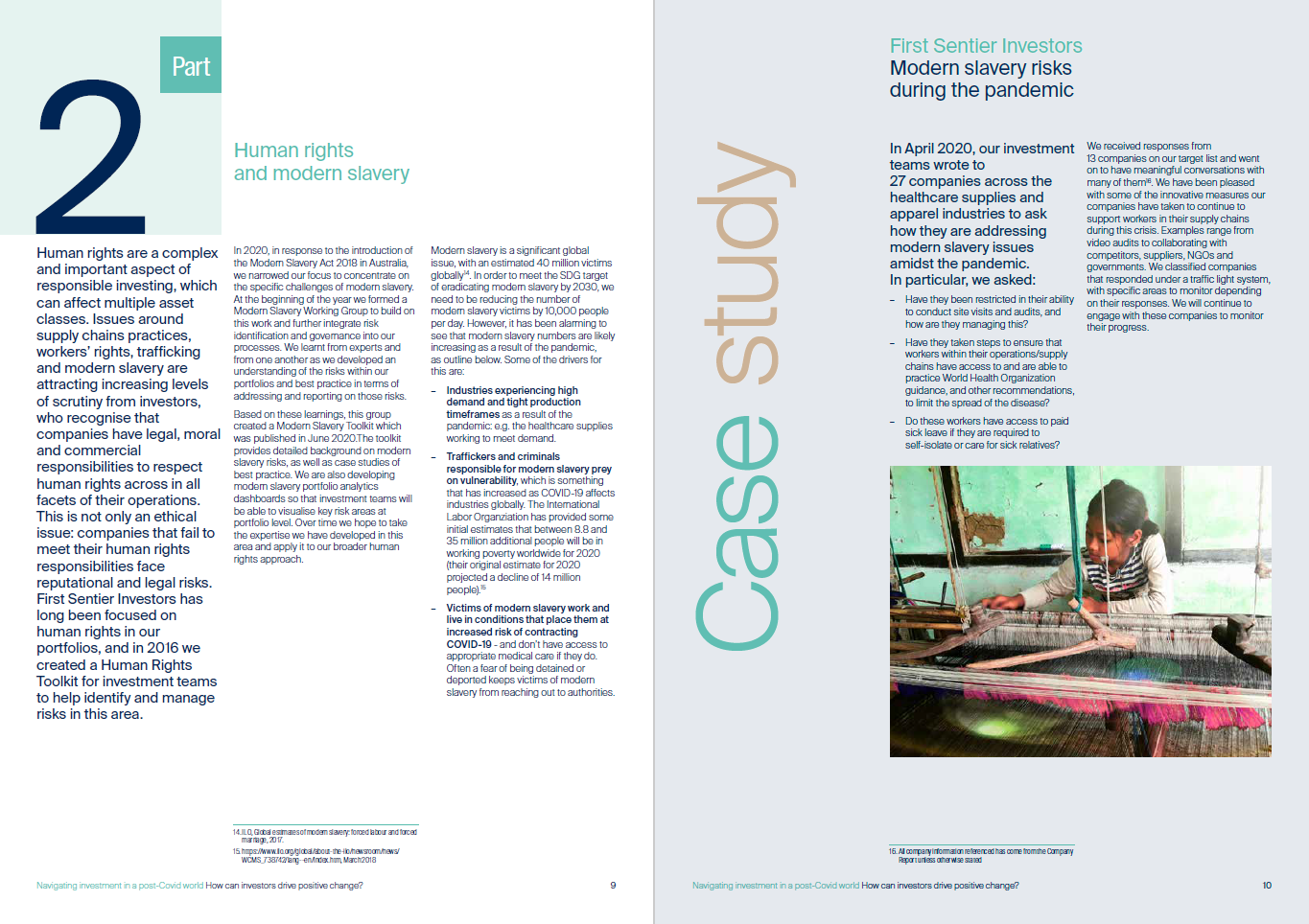 1. https://science.sciencemag.org/content/360/6390/791
2. https://theconversation.com/climate-change-could-causeabrupt-biodiversity-losses-this-century-135968
3. Gibb, R. et al. Nature https://doi.org/10.1038/s41586-020-2562-8 (2020).
4. https://www.nature.com/articles/d41586-020-02341-1, August 2020
5. https://www.nature.com/articles/s41598-019-43023-x
6.https://www.thewi.org.uk/__data/assets/pdf_file/0007/327418/WI_EndPlasticSoup_Report_Stakeholders.pdf
Important Information
This material has been prepared and issued by First Sentier Investors (Australia) IM Ltd (ABN 89 114 194 311, AFSL 289017) (Author). The Author forms part of First Sentier Investors, a global asset management business. First Sentier Investors is ultimately owned by Mitsubishi UFJ Financial Group, Inc (MUFG), a global financial group. A copy of the Financial Services Guide for the Author is available from First Sentier Investors on its website.
This material contains general information only. It is not intended to provide you with financial product advice and does not take into account your objectives, financial situation or needs. Before making an investment decision you should consider, with a financial advisor, whether this information is appropriate in light of your investment needs, objectives and financial situation. Any opinions expressed in this material are the opinions of the Author only and are subject to change without notice. Such opinions are not a recommendation to hold, purchase or sell a particular financial product and may not include all of the information needed to make an investment decision in relation to such a financial product.
To the extent permitted by law, no liability is accepted by MUFG, the Author nor their affiliates for any loss or damage as a result of any reliance on this material. This material contains, or is based upon, information that the Author believes to be accurate and reliable, however neither the Author, MUFG, nor their respective affiliates offer any warranty that it contains no factual errors. No part of this material may be reproduced or transmitted in any form or by any means without the prior written consent of the Author.