Every year, millions of people all over the world fall victim to modern slavery practices such as forced labour, child labour, debt bondage and human trafficking. New legislation in Australia has made large corporations responsible for safeguarding human rights in their organisations and their supply chains.
At First Sentier Investors, we've been managing human rights risks in our portfolios for several years. This means we're well placed to engage with our investee companies on the subject, reducing the risks to our clients' capital and helping to stamp out harmful activities that have no place in modern society.

Australia is taking action on modern slavery
In 2016, the International Labour Organization of the United Nations estimated that 40.3 million people in the world were victims of modern slavery – that's 5.4 victims for every 1,000 people[1].
'Modern slavery' is used as an umbrella term for crimes such as forced labour, debt bondage, human trafficking, child labour and forced marriage. It disproportionately affects vulnerable communities and people, including children.
The Sustainable Development Goal for 'Decent Work and Economic Growth' (8) has a target (8.7)[2] that calls for immediate and effective measures to eradicate modern slavery by 2030, and to end all child labour by 2025. There is much work to be done before these goals can be achieved.
Australian companies are particularly exposed to the risk of modern slavery. Their supply chains are often closely linked to businesses in the Asia Pacific region, where over half of victims are believed to be located.[3]
On 1 January 2019, the Modern Slavery Act 2018 (Commonwealth) (the "Act") came into effect in Australia. It makes Australian companies responsible for safeguarding human rights throughout their organisations and supply chains. The Act is largely based on the UK's Modern Slavery Act 2015, with a key difference being that the Australian legislation includes mandatory reporting requirements (although at this stage, there are no penalties for not complying).
What the new legislation means and how we're responding
The Act requires that entities with annual consolidated revenue of over AU$100 million must produce an annual Modern Slavery Statement, approved by the board and signed by a director. Around 3,000 entities fall under this obligation[4], and the first statements will be published on the Australian Government website in 2020.
However, as mentioned above, there are currently no financial penalties if companies don't comply with the reporting requirement.  As such, we believe investors have a critical role to play in driving compliance.
For investors, the risks facing companies exposed to modern slavery practices can be difficult to quantify, however, the financial and reputational repercussions can be significant. More importantly though, there is a fundamental ethical risk of harming people.
Our work on managing modern slavery risk
Creating positive change for the millions of victims of modern slavery and securing sustainable long-term investment returns is central to our stewardship responsibilities. This is why it's critical that we assess and manage human rights risks in our portfolios.
In 2016, we formed a Human Rights Working Group composed of members from our investment teams globally to develop a more structured approach to the problem across different regions and asset classes. This working group created a Human Rights Toolkit to help all investment teams better manage human rights risks in our portfolios.
In 2020, we formed a Modern Slavery Working Group to build on this work and further integrate risk identification and governance into our processes. This group created a Modern Slavery Toolkit which was published in June 2020.
The toolkit provides detailed background on modern slavery risks, as well as case studies of best practice. We are also developing modern slavery portfolio analytics dashboards so that investment teams will be able to see at portfolio level where key risks lie.
The toolkit provides research and guidance for each of the following steps.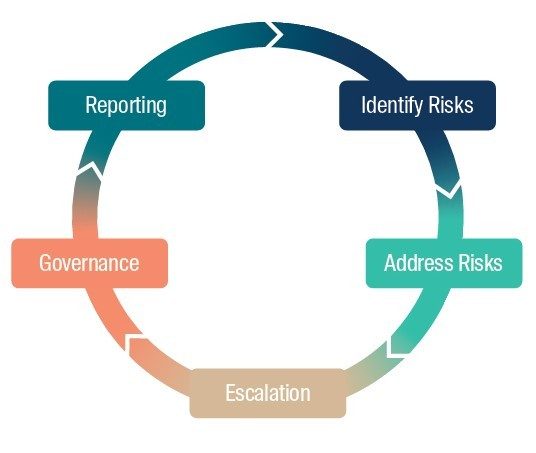 1. Identifying risks
Provides a series of data sources to use to identify risk, and discusses the importance of considering risk to people, and salience of risks.
Lists points to consider e.g. whether there is a complex supply chain, if large numbers of employees are vulnerable to exploitation (eg. Migrant workers, minorities, illiterate); and whether there are pressures such as short lead times or cost pressures.

2. Addressing risks
We want to ensure that the companies in our portfolios have a robust process in place to identify any risks, 
Where companies have identified risks or actual instances of modern slavery, are they taking steps to address those risks?
Provides guidelines and sample questions for engaging with companies identified as having modern slavery risks,
Lists other forms of leverage in addition to engagement, such as policy advocacy and building partnerships.

3. Escalation
Includes a series of actions for escalating and ongoing monitoring of any instances of modern slavery identified.
Where an investee company finds modern slavery within its operations or supply chain, the most important step is enabling a remedy for the victim.
It is important to note that whilst divestment may protect our organisation from risk, it does not minimise the risk to people, which is our obligation under the legislation.
Divestment is unlikely to go hand in hand with remedy for the victims of modern slavery, so it should be considered as a last resort.

4. Internal Governance
Outlines the robust internal governance framework we have created
This includes biannual Modern Slavery Working Group meetings, annual training sessions for the investment teams, and ongoing Global Investment Committee reporting on risks and incidents.

5. Reporting
Provides a reporting template for investment teams to be completed each year. 
Includes a series of qualitative and quantitative metrics to measure our success over time.
 
Putting it into practice: Modern Slavery and COVID-19 engagement
As our business entered into lockdown in March, the Modern Slavery Working Group continued to meet remotely, and the experts who joined our meetings drew our attention to the heightened risks of modern slavery as a result of the COVID-19 pandemic.
In order to meet our sustainable development goal target of eradicating modern slavery by 2030, we need to be reducing the number of modern slavery victims by 10,000 people per day. So it was alarming to see that modern slavery numbers were likely to increase as a result of the pandemic. We identified several areas of enhanced risk, including:
Industries experiencing high demand and tight production timeframes as a result of the current pandemic: e.g. the healthcare supplies industry has increased levels of risks as corners are cut to meet demand.
Traffickers and criminals responsible for modern slavery prey on vulnerability, which is something that we will see increase as COVID-19 affects industries globally. The ILO has provided some initial estimates that between 8.8 and 35 million additional people will be in working poverty worldwide for 2020 (their original estimate for 2020 projected a decline of 14 million people). Workers in industries such as the apparel industry have been negatively impacted as retailers cancel orders and delay payments. Many workers aren't receiving legally mandated wages and aren't entitled to benefits, so a major production slowdown will mean many more people are vulnerable to modern slavery.
Victims of modern slavery work and live in conditions that place them at increased risk of contracting COVID-19 - and don't have access to appropriate medical care if they do. Often a fear of being detained or deported keeps victims of modern slavery from reaching out to authorities. Victims are regularly forced to work through illness without access to healthcare, and to live with large numbers of people in unsanitary conditions. The combination of these living conditions and a reluctance to reach out to authorities, together with a lack of access to information, is deadly where COVID-19 is concerned.
Based on this information, the investment teams across FSI wrote to 28 companies across the healthcare supplies and apparel industries to ask how they are addressing modern slavery issues amidst the pandemic.
We asked companies in the healthcare supplies industry to tell us how they are addressing the heightened risks as a result of the pandemic. In particular, we asked:
Have they been restricted in their ability to conduct site visits and audits, and how they are managing this?
Have they taken steps to ensure that workers within their operations/supply chains have access to and are able to practice World Health Organization guidance, and other recommendations, to limit the spread of the disease?
Do these workers have access to paid sick leave if they are required to self-isolate or care for sick relatives?
We asked companies in the apparel industry:
Are they taking steps to ensure workers in their supply chain are paid legally mandated wages and benefits?
Have they set up or contributed to emergency relief funds or financial support packages?
Does their exit plan include plans for resumption of orders and reinstatement of workers following the crisis?
We will report on the outcomes of this collaborative engagement in due course, but to date we have been pleased with some of the innovative measures our companies have taken to continue to support workers in their supply chains during this crisis. Examples range from video audits to collaborating with competitors, suppliers, NGOs and governments. We will continue to engage with these companies to monitor their progress throughout the pandemic and as we emerge from it.

What next?
In the coming year, we will introduce dedicated portfolio-level analytics to identify and report on risks in each portfolio across our global business. We will continue to enhance and improve these reports as new data becomes available.
We will begin to collect data that will help us track our progress, including the number of companies we have engaged with, the number of instances of modern slavery they have identified and the efforts they have made to identify and address this issue. We will complement this with qualitative case studies.
Now that we have finalised our Modern Slavery Toolkit we are rolling out training across the investment teams.
Our internal collaborative engagement has been a successful way of driving positive change and we will look to identify further areas for collaboration with our investment teams and external stakeholders.
Footnotes

[1] Global Estimates of Modern Slavery: Forced Labour and Forced Marriage, Geneva, September 2017, https://www.ilo.org/wcmsp5/groups/public/---dgreports/---dcomm/documents/publication/wcms_575479.pdf
[2] https://www.un.org/sustainabledevelopment/sustainable-development-goals
[3] https://www.globalslaveryindex.org/2018/findings/regional-analysis/asia-and-the-pacific/
[4] 2018 Department of Home Affairs. Guidance for Reporting Entities
Important Information
This material has been prepared and issued by First Sentier Investors (Australia) IM Ltd (ABN 89 114 194 311, AFSL 289017) (Author). The Author forms part of First Sentier Investors, a global asset management business. First Sentier Investors is ultimately owned by Mitsubishi UFJ Financial Group, Inc (MUFG), a global financial group. A copy of the Financial Services Guide for the Author is available from First Sentier Investors on its website.
This material contains general information only. It is not intended to provide you with financial product advice and does not take into account your objectives, financial situation or needs. Before making an investment decision you should consider, with a financial advisor, whether this information is appropriate in light of your investment needs, objectives and financial situation. Any opinions expressed in this material are the opinions of the Author only and are subject to change without notice. Such opinions are not a recommendation to hold, purchase or sell a particular financial product and may not include all of the information needed to make an investment decision in relation to such a financial product.
To the extent permitted by law, no liability is accepted by MUFG, the Author nor their affiliates for any loss or damage as a result of any reliance on this material. This material contains, or is based upon, information that the Author believes to be accurate and reliable, however neither the Author, MUFG, nor their respective affiliates offer any warranty that it contains no factual errors. No part of this material may be reproduced or transmitted in any form or by any means without the prior written consent of the Author.